Studie zur Rolle von Länderinformation in britischen Asylverfahren
Der von der britischen Organisation Immigration Advisory Service (IAS) veröffentlichte Bericht untersucht die Nutzung von Länderinformationen durch vier Akteursgruppen und welche Faktoren die Verwendung und das Verständnis von Länderinformationen beeinflussen. Die Daten wurden bei Mitarbeitern der UK Borders Agency, bei Rechtsvertretern, Richtern und Experten gesammelt.
Country of origin information (COI) is an important part of the refugee status determination process. It assists decision makers to assess the credibility of accounts and the risk upon return against background evidence that details the conditions in the country of origin.

If legal representatives, advisors or decision-makers are unable properly to access, understand and utilise country information, they cannot provide quality advice and representation to asylum seekers or make proper decisions.

The report prepared by the IAS' Research, Information & Policy Unit as a result of an 18 month project explores how individuals from four stakeholder groups use country information and what factors impact on their level of use, using data from 100 questionnaires, 20 interviews and 6 focus groups. Information was gathered from UK Borders Agency (UKBA) staff, legal representatives, immigration judges and experts.

Overall, insufficient usage of country of origin information is reported to be commonplace, particularly at the initial decision making phase, despite improvements under the New Asylum Model. The way country information is used was observed to be different within each of the stakeholder groups, due to differential levels of knowledge, application and analysis of the information.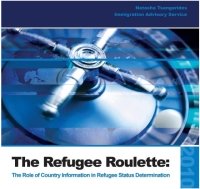 IAS: The Refugee Roulette: The Role of Country Information in Refugee Status Determination (Natasha Tsangarides, Jänner 2010)
IAS: The Refugee Roulette – Zusammenfassung
Klicken Sie hier für mehr Informationen über das Projekt.
Klicken Sie hier für weitere Publikationen des IAS.
Der obenstehende Text wurde teilweise von der Presseaussendung des IAS übernommen.
Update 3. März 2010: Neuer IAS-Bericht zur Arbeit des APCI
In July 2008 the Advisory Panel on Country Information (APCI) was disbanded and its functions subsumed under the Office of the Chief Inspector of the UKBA. In March 2009 the Chief Inspector established the Independent Advisory Group on Country Information (IAGCI) to assist him with monitoring the UKBA Country of Origin Information Service (COIS) reports.

A new report from the IAS investigates the impact of the independent monitoring of the former on raising the standards and quality of UKBA COIS reports.
Klicken Sie hier um den Bericht zu lesen (3. März 2010). (PDF)
Klich Sie hier für die Presseaussendung. (HTML)