UNHCR Tokyo introduces Japanese translation service for ecoi.net
The UNHCR Representation in Japan developed a machine translation service for RSD stakeholders to use ecoi.net in the Japanese language.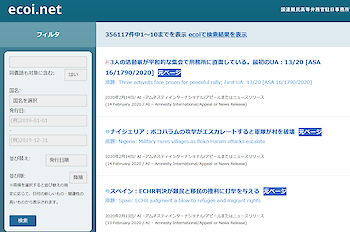 The service allows users to search with Japanese search terms, which are automatically translated into English. The corresponding search results are then automatically translated into Japanese.
The aim is to reduce the language barrier to conduct COI research. Care is taken to inform users that, as the service is based on machine translation, its goal is to offer an overview on the available information, and that they should refer to the original document or to professional human translation before using a document for a decision.
The translation service for ecoi.net complements the Japanese edition of ACCORD's COI training manual (translated by the University of Tokyo's CDR) as the second tool available for target groups in Japan.