ACCORD published an update to the 2020 report on Turkey
ACCORD published a December 2020 update in German language of the Turkey report of August.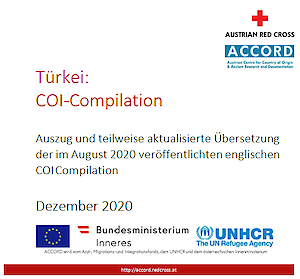 The compilation deals especially with the situation since the 2016 coup attempt and the state of emergency that followed it.
It covers the following topics: political background and developments, esp. after the coup attempt; rule of law; human rights situation; ethnic minorities; Gülen movement; IDPs and refugees; Syria offensive.
ACCORD – Austrian Centre for Country of Origin and Asylum Research and Documentation: Turkey COI Compilation 2020, August 2020
https://www.ecoi.net/en/file/local/2035329/ACCORD+Turkey+COI+Compilation+2020.pdf
The December 2020 update of selected chapters in German language:
ACCORD – Austrian Centre for Country of Origin & Asylum Research and Documentation: Türkei: COI-Compilation, December 2020
https://www.ecoi.net/en/file/local/2041954/ACCORD_Tuerkei_COI-Compilation_2020.pdf