New search interface including Moderated Search
The new search interface gives you more room to formulate your search query. We also introduce a Moderated Search, based on the ecoi.net COI Thesaurus. This new function will help you to refine your search.
Update February 2019: in the new, completely relaunched ecoi.net, this function is no longer available.
Please note: you may need to refresh the ecoi.net page content by pressing Ctrl-F5 (on the ecoi.net home page) for technical reasons.
The possibility to conduct full-text searches through over 100.000 documents from a variety of sources is one of ecoi.net's main assets. The new search interface makes this function even more accessible and user-friendly.
To use the new ecoi.net search, go to a country page (on the left-hand navigation menu), or use the search form directly on ecoi.net's start page. Click on the "Advanced Search" tab to filter by source, publishing date, document type, etc.
Moderated Search – the COI Thesaurus
The ecoi.net search engine automatically includes English and German synonyms and near synonyms of your search terms. This has been made possible by linking a bi-lingual COI Thesaurus to our search in February 2008.
In addition to that, we now introduce a "Moderated Search", which helps you to narrow down or to broaden your search. Whenever you search for a word included in the COI Thesaurus, the Moderated Search suggests broader, narrower and related terms. Click on the check-box of the appropriate search operator, and the term will be added to your search terms.
Example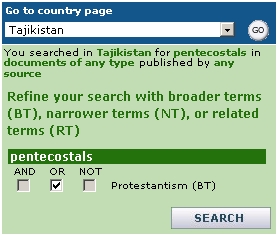 You are looking for information on the situation of Pentecostals in Tajikistan. A search for the term pentecostals in Tajikistan only results in 10 documents.
The Moderated Search finds the term Pentecostals in the COI Thesaurus and proposes the broader term (BT) Protestantism. To get more results, select the OR-operator by clicking on its check-box and then on the Search-button.
You now have more than 40 results which you can check for relevance. Many sources do not differentiate as much as would be required to find very specific terms. They often use broader terms, like Protestants, or Christians, for specific denominations, like Pentecostals in this example.
After adding the term Protestantism to your search, the Moderated Search proposes broader, narrower and related terms for Protestantism, too. If you think the results for the search Pentecostals OR Protestantism are not enough, you can select other proposed terms, like Christianity (broader term for Protestantism) combined with OR.
Please note: Synonyms and near synonyms (in English and German) are included automatically whenever a term is found in the Thesaurus. This means they will also be included for each term you add with the Moderated Search.
You can switch these features off by deselecting the inclusion of related terms under the Advanced Search options.
Click here for background information on the COI Thesaurus.
Search Description
As you can see in the image above, the new search interface also features a description of your search, including all the filters you can use in the Advanced Search.
Click here for more detailed search help.
Send your feedback
In case you find errors, missing or false relations, or you want to suggest additional terms, please do not hesitate to contact us. Use the contact form or send a message to info@ecoi.net.The further development of the COI Thesaurus will benefit from your input.