Country Briefing
| | |
| --- | --- |
| Area: | 652.230 km² |
| Capital: | Kabul |
| Population: | ca. 37,5 million |
| Official languages: | Dari and Pashtu [1] |
| Currency: | Afghani (Af)[2] |
1. BRIEF OVERVIEW OF AFGHANISTAN
Afghanistan is a landlocked country largely characterised by the Hindu Kush mountain range in the heart of southern Central Asia[3]. It is one of the poorest countries in the world[4] and more than half of the population is dependent on existential aid[5] (→ ecoi.net search on poverty). Almost 80 percent of the working population works in agriculture, industry is almost non-existent. A main source of income is opium, which is cultivated mainly in the south and southeast of the country: 12 percent of the population is said to be involved in opium cultivation or trade, and 90 percent of the world's heroin is said to come from Afghanistan[6]. In 2021, Afghanistan's opium is estimated to be worth between 9 and 14 percent of GDP, which exceeds the value of officially recorded exports of goods and services[7]. The proportion of illiterate women is over 60 percent, with about half of Afghan men but only 20 percent of Afghan women being literate[8] (→ ecoi.net search on literacy rate).
References
The National Geographic Kids site has a country profile of Afghanistan:
2. HISTORY

[9]
The borders of present-day Afghanistan were established in the 19th century, in the conflict between Tsarist Russia and the British Empire, the so-called "Great Game"[10]. In 1973, the Republic of Afghanistan was proclaimed, which succeeded a monarchical system and was replaced by the Democratic Republic of Afghanistan in a coup d'état in 1978, ushering in a communist phase. In 1979, the Soviet Union invaded Afghanistan[11] to support the communist Afghan government in its conflict with Muslim guerrillas[12]. Resistance to the Soviet forces was formed and Islam was built up as the ideological antithesis of communism[13]. By 1980, several regional groups known as mujahideen ("those who participate in jihad") had united against the Soviet invaders and the Afghan army they supported. Mujahideen were supported financially and militarily by the USA, Pakistan, China, European and Arab states. When the Soviet troops left the country in 1989, the civil war between the Mujahideen and the communist Afghan government continued, and the latter was finally deposed in 1992, in the wake of the collapse of the Soviet Union and thus a lack of support. A coalition consisting mainly of the mujahideen who had previously fought the Soviet Union set up an interim government[14]. The rule of the Mujahideen, who tried to monopolise their power, ended in civil war[15]. Afghanistan was de facto ruled by militia leaders and warlords and the population suffered from road taxes, extortion and kidnappings. This situation contributed to the formation of the Taliban ("religious students") in autumn 1994, recruited from madrasa students in Pakistan and Kandahar province[16].
In 1996, the Taliban finally captured Kabul and by 2001 they had gained control of more than 90 per cent of the country. Pakistan, Saudi Arabia and the United Arab Emirates formally recognised the Taliban government after the fall of Kabul, but it came under criticism for its extreme views - particularly on women - and its human rights record[17]. When the Taliban did not extradite Osama Bin Laden, blamed by the US for the attacks on the World Trade Center and the Pentagon, who was in Afghanistan, the US attacked the Taliban in 2001 and their resistance collapsed within days. An interim government was installed. In 2004, democratic presidential elections were held in which women also had the right to vote and from which Hamid Karzai emerged successful. Attacks and violent clashes between the US-led coalition, later NATO forces, and Taliban forces continued in the following years and civilian casualties remained high. Peace talks with the participation of the US, Saudi Arabia and Pakistan were held with the Taliban in 2018 and 2019. On the condition that the Taliban hold peace negotiations with the Afghan government and prohibit Al-Qaeda and the Islamic State from operating in Afghanistan, the USA put the withdrawal of its troops on the table in an agreement of February 2020. Despite the United States' resumption - after a months-long delay - of its troops-withdrawal in May 2021, the negotiations between the Taliban and the central government continued to lack progress[18]. In the early summer of 2021, the Taliban finally captured large parts of Afghanistan, including the capital Kabul, meeting little resistance[19]. In September 2021, the Taliban formed an interim government with all-male members of mainly Pashtun origin[20].
References
The following article by the Federal Agency for Civic Education provides a good overview of Afghan history:
In English: Extensive information on the history of Afghanistan from early history to the present is provided by the online encyclopaedia Encyclopaedia Britannica:
3. ETHNIC AND RELIGIOUS GROUPS
The largest ethnic group in Afghanistan[21] are the Pashtuns (about 40 per cent of the Afghan population), followed by Tajiks (about 30 per cent), Hazara (about 10 per cent) and Uzbeks (about 9 per cent). In addition to these large and larger ethnic groups, there are also numerous small groups, peoples and tribes, such as Aimak, Baluch or Nuristani[22].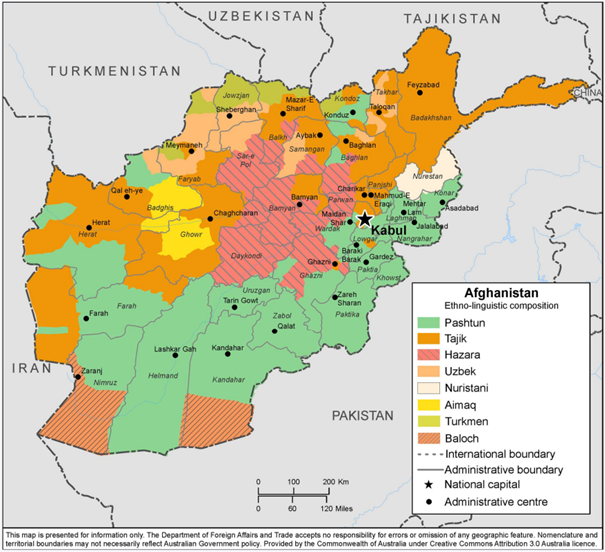 Approximately 98 to 99 per cent of Afghan women belong to Islam[24], of which more than 80 per cent are Sunni Muslims[25]. Non-Muslim minorities such as Sikhs or Hindus have shrunk to a small proportion of their former size, as most have emigrated during the last decades[26] and only a few thousand[27] or even hundreds[28] of them remain in Afghanistan. Most Taliban members are ethnic Pashtuns, but they are also supported by members of other ethnic groups[29]. The new Taliban government does not represent the population of the country, it is exclusively male, almost all government members are Taliban and it is dominated by Pashtuns[30].
Pashtuns are the largest ethnic group in Afghanistan in terms of numbers, but they are not a homogeneous group, but are divided into different tribes and sub-tribes. Pashtuns mainly live in the south and southeast of the country, but also live in all other regions of Afghanistan[31]. The Pashtunwali system of values and behaviour, which has been passed down orally for centuries and which regulates both individual and group behaviour, is still significant for Pashtuns today[32] and mixesa tribal code of honour and local interpretations of Sharia law[33]. Although the majority of Pashtuns have lived a settled life for centuries, aspects of their earlier nomadic way of life (culture of honour) can be traced back to Pashtunwali[34]. In case of disputes or matters in the interest of the group, the tribal council is convened to resolve issues and make decisions[35]. Disputes among Pashtuns are traditionally traced back to "zar, zan and zamin" (gold, women and land), the main bases of wealth and honour in tribal society[36]. According to this proverb, women are considered the cause of disputes and at the same time equated with property[37]. Women are shielded from all matters outside the home and are required to wear full face and full body coverings (burqas)[38]. Pashtuns are considered the founders of the Afghan Empire and have always dominated the country's political scene[39].
After the Pashtuns, the Tajiks are the second largest ethnic group in Afghanistan.[40] and live mainly in the north and north-east of the country.[41]. Most Tajiks are Dari-speaking Sunni Muslims, but a minority profess Twelver Shia.[42] Tajiks are not divided into clearly defined tribes [43], loyalties are based on family and village. Afghanistan was ruled by Tajiks for two short periods. [44]
Hazara are an ethnolinguistic group from the mountainous region located in central Afghanistan[45]. Hazara traditionally speak a dialect of Dari called Hazaragi. Their large majority are followers of the Twelver Shia, a smaller number are Ismailis and a minority profess Sunni Islam. Before the 19th century, the Hazara formed the ethnic majority in Afghanistan[46] and until 1890 they were largely autonomous[47]. Their violent and brutal incorporation into the nascent Afghan state by predominantly Pashtun armies[48] (by 1893, more than half of all Hazara had been killed)[49] laid the foundation for lasting enmity between the Shia Hazara and the Sunni Pashtuns, on both religious and ethnic grounds. Since then, according to the Encyclopaedia Britannica, they have been victims of persecution, displacement and marginalisation.[50].
Uzbeks speak a Turkic language, and the vast majority are Sunni Muslims. Uzbek and Turkmen people inhabit most of the fertile land in northern Afghanistan and live mainly from agriculture. Uzbeks have tribal identities that still continue to determine the structures within their society[51].
References
In English: Minority Rights Group International provides information on the above and other ethnic minorities of Afghanistan:
4. WOMEN
According to the Women, Peace and Security Index[52] 2021/22, which attempts to provide information on the status and level of empowerment of women in countries around the world[53], Afghanistan ranks last out of 170 countries[54]. According to the index, the level of female autonomy and security varies greatly by province; for example, it is reported that as many as 35 per cent of Afghan women became victims of violence committed by an intimate partner in 2021, while in the provinces of Ghor, Herat and Wardak the figure was over 84 per cent. Spanking of wives is widely accepted in Afghanistan, and participation in domestic decision-making is very low[55]. So-called honour killings of mostly girls or women to protect the "honour" of the family also occur frequently, especially in rural areas of Afghanistan, and are often tolerated by judicial authorities[56] (→ ecoi.net search on honour killing).
According to a January 2022 report of the Australian Department of Foreign Affairs, women bore the brunt of the Taliban's imposition of their interpretation of Sharia Law upon their takeover in the late 1990s. Women and girls were obliged to be accompanied by a male relative and thereby largely banned from public life[57].
After the fall of the Taliban in 2001, several measures were taken to improve the situation of Afghan women and girls, resulting in an improvement in access to education and employment, and in political representation. However, the average schooling of Afghan women was still alarmingly low, at only two years[58] (→ ecoi.net search on women and education). Women's life expectancy also increased significantly after the fall of the Taliban, by 10 years in the period from 2001 to 2017. Since taking power again in August 2021, the Taliban made promises regarding inclusion and women's rights (→ ecoi.net search on women's rights). However, the Taliban already qualified these promises at their first press conference by stating that rights would only apply within the framework of their conservative interpretation of Sharia law. In December 2021, the Taliban issued a decree stating that women should not be considered property and prohibiting forced marriages in Afghanistan[59] (→ ecoi.net search on forced marriage).
Despite the Taliban's promise to create an inclusive government, there is not a single woman among the 90 government appointments made so far[60]. A ministry to "invite, guide, promote virtue and prevent vice" moved into the former Women's Ministry building, with offices for the religious morality police[61]. In November 2021, new guidelines issued by the ministry made wearing the hijab mandatory for female reporters and asked TV stations to take off air soap operas featuring women. In December, the same ministry issued travel restrictions for women, stating that they were not allowed to travel farther than 72 kilometres without being accompanied by a male relative and that vehicle owners should not transport women who do not wear headscarves[62]. Women judges and lawyers were reportedly threatened with death by detainees released by the Taliban, prompting many of these women to flee the country. Whereas the Taliban continued to allow girls to attend primary schools, girls' access to secondary schools and women's access to public universities has been discontinued. Some women still attend private universities, and high schools for girls remained open in some provinces even after the Taliban took power[63]. The US-based NGO Freedom House reports that the Taliban put an end to the limited formal protection against domestic violence that the Republic had provided (→ ecoi.net search on domestic violence). Shelters for survivors of gender-based violence (GBV) were closed by the Taliban, and some residents were reportedly taken to prisons (→ ecoi.net search on gender-based violence). People convicted of gender-based violence were also released by the Taliban during their takeover[64].
UN human rights experts state that Taliban leaders in Afghanistan institutionalise gender discrimination and violence against women and girls on a large scale and systematically. The Taliban would continuously and systematically seek to exclude women from the social, economic and political spheres throughout the country. These concerns are further compounded when it comes to women belonging to ethnic, religious or linguistic minorities such as Hazara, Tajik, Hindu and other communities who are identifiable as such and therefore even more vulnerable[65].
References
The German Federal Office for Migration and Refugees covers the situation of women in Afghanistan in a country report for the period 1996 - 2022:
5. HUMANITARIAN SITUATION
After 40 years of war, a humanitarian situation characterised by increasing hunger, economic decline, price increases in food and other essentials, and rising poverty prevailed even before the Taliban took power again in August 2021[66]. Before the Taliban's takeover, foreign donors accounted for up to 80 per cent of all Afghan government spending. Afterwards, these funds were all frozen[67] or diverted to humanitarian assistance.[68] Without these funds, the Afghan economy went into a downward spiral, while the country continues to face prolonged drought, a hunger crisis and Covid-19[69].
The economic situation has humanitarian consequences: A large part of the population will fall below the poverty line in 2022, and malnutrition is increasing rapidly. [70] The United Nations World Food Programme reports that 95 percent of all Afghans do not have enough food[71]. Food prices are rising sharply, while incomes are dwindling and unemployment is growing. In particular, many women have lost their jobs and have no income[72]. A prolonged drought is exacerbating food shortages[73] (→ ecoi.net search on food insecurity in Afghanistan). According to the United Nations Secretary-General, the devastated economy is leading families to resort to increasingly drastic coping mechanisms, including child trafficking (→ ecoi.net search on child trafficking), child marriage (→ ecoi.net search on early marriage), recruitment and deployment of children in the armed forces, and child labour[74] (→ ecoi search on child labour).
The non-governmental organisation International Rescue Committee states that without foreign funding to pay civil servants such as health workers and teachers and to run vital public services, Afghanistan's entire health sector is on the verge of collapse[75] (→ ecoi.net search on health care).
The general scale of the armed conflict decreased significantly after the Taliban took power, as did the number of civilian casualties, making access for humanitarian aid much easier, according to the assessment of the UN Secretary-General[76]. However, the Islamic State of Khorasan (IS-K) intensified its attacks after the Taliban took power[77].
References
For a detailed overview of the humanitarian situation in Afghanistan, see ACCORD's December 2021 response to the question below:
In English: An article by The New Humanitarian describes the humanitarian situation in Afghanistan at the time of February 2022:
6. RETURNEES AND INTERNALLY DISPLACED PERSONS
The Integrated Food Security Phase Classification (IPC) initiative reported in October 2021 that Afghanistan is facing one of the most acute internal displacement crises in the world[78]. It is estimated that between 3.4 million[79] and 5.5 million[80] people have become internally displaced as a result of the conflict. IPC names protracted conflicts, the poor security situation, the impact of the COVID-19 pandemic and natural disasters such as droughts, floods and earthquakes as the main causes[81]. More than half of the country's population is currently in need of life-saving and essential assistance. According to UNHCR, the situation is particularly difficult for IDPs, with many living in makeshift shelters under most basic conditions, far from their places of origin[82].
IPC further explains that rural communities mainly migrate to nearby urban or semi-urban settlements where the security situation is relatively better, and land is affordable or available for temporary settlement without lease costs. While these settlements would provide protection from conflict with non-state actors, internal communal conflicts over land use, lack of basic services such as electricity, water, access to sanitation and education, and poor housing conditions are a major problem. Most of the goods that sustain the livelihoods of IDPs are sold at very low prices or lost. IDPs often leave their places of residence without the necessary identity papers and school certificates for their children, which hampers their access to assistance. They also pay very high transport costs to bring their families to a safer place. Since they have no means of making a living through agriculture and livestock and have no skills for the urban labour market, they have almost no means of making a living, according to IPC. Most IDPs bring agricultural skills with them to urban areas where there is no demand for these skills. Their arrival increases pressure on the local labour market, leads to a drop in wages and puts a strain on infrastructure, ultimately leading to tensions and conflicts with the local population[83].
In a survey conducted in 2021, 40 per cent of IDP households interviewed reported insecure tenure in their current accommodation. For example, they had no tenancy agreement or only an oral tenancy agreement, and they were at constant risk of possible eviction[84]. Data from 2021 show that approximately 58 per cent of IDPs are children, with half of the remaining 42 per cent being men and half women[85] (→ ecoi.net search on IDPs).
Neighbouring countries such as Pakistan and Iran are important destination countries for Afghans seeking international protection. Before 2021, more than 2 million Afghan refugees were registered in these countries, of which more than 64 per cent were in Pakistan and 35 per cent in Iran[86]. Between 4,000 and 5,000 people left Afghanistan for Iran every day in autumn 2021, according to Iranian media[87]. But the numbers of returnees are also high: in December 2021, Iran is said to have deported at least 3,000 people a day back to Afghanistan[88]. According to the International Organization for Migration (IOM), more than one million Afghans from Iran and Pakistan are said to have returned to Afghanistan in 2021, most of them deported. The returnees are often destitute and desperate, in need of medical assistance and food. Their reintegration is extremely difficult, especially for those who have lived in Iran or Pakistan for many years, due to high unemployment and food insecurity[89] (→ ecoi.net search on returnees).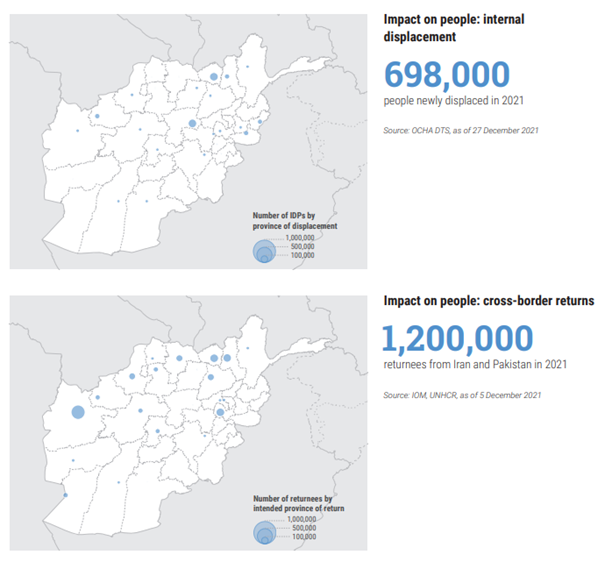 ---
Footnotes
[1] CIA - Central Intelligence Agency: The World Factbook - Afghanistan, last updated 22 February 2022
https://www.cia.gov/the-world-factbook/countries/afghanistan/#geography;
Encyclopaedia Britannica gives slightly different figures for Afghanistan's area (652,864 km2) and population (approx. 33.4 million). See Encyclopaedia Britannica: Afghanistan - Facts & Stats, last updated 2 November 2021
https://www.britannica.com/facts/Afghanistan
[2] Encylopaedia Britannica: Afghanistan - Introduction & Quick Facts, last updated 2 November 2021
https://www.britannica.com/place/Afghanistan/additional-info#history
[3] Encylopaedia Britannica: Afghanistan - Country, last updated 2 November 2021
https://www.britannica.com/place/Afghanistan
[4] Political Handbook of the World, 2018-2019, SAGE Publications (edited by Tom Lansford), 2019 (Kindle edition), p. 3
[5] UN General Assembly: The situation in Afghanistan and its implications for international peace and security; Report of the Secretary-General [A/76/667-S/2022/64], 28 January 2022, p. 13
https://www.ecoi.net/en/file/local/2067517/A_76_667--S_2022_64-EN.pdf
[6] Political Handbook of the World, 2018-2019, SAGE Publications (edited by Tom Lansford), 2019 (Kindle edition), p. 3.
[7] UNODC - UN Office on Drugs and Crime: Drug Situation in Afghanistan 2021 - Latest findings and emerging threats, 15 November 2021, p. 9
https://www.ecoi.net/en/file/local/2064047/Afghanistan_brief_Nov_2021.pdf
[8] Government of Afghanistan (author), published by CRPD - UN Committee on the Rights of Persons with Disabilities: Initial report submitted by Afghanistan under article 35 of the Convention, due in 2014 [1 December 2020] [CRPD/C/AFG/1], 15 December 2021, p. 8
https://www.ecoi.net/en/file/local/2067800/crpd_c_afg_1_E.pdf
[9] The historical overview is mainly based on information from the universal encyclopaedia Encyclopaedia Britannica
[10] Encyclopaedia Britannica: Afghanistan - Introduction & Quick Facts, last updated 2 November 2021
https://www.britannica.com/place/Afghanistan
[11] Encylopaedia Britannica: Afghanistan - History, Afghanistan since 1973, last updated 2 November 2021
https://www.britannica.com/place/Afghanistan/Mohammad-Zahir-Shah-1933-73#ref21410
[12] Encyclopaedia Britannica: Soviet invasion of Afghanistan, last updated 11 May 2020
https://www.britannica.com/event/Soviet-invasion-of-Afghanistan
[13] FES - Friedrich Ebert Stiftung: Afghanistan between chaos and power politics, April 1998
https://www.fes.de/ipg/ipg2_98/artschetter.html
[14] Encylopaedia Britannica, Afghanistan - History, Afghanistan since 1973, last updated 2 November 2021
https://www.britannica.com/place/Afghanistan/Mohammad-Zahir-Shah-1933-73#ref21410
[15] BpB - Bundeszentrale für politische Bildung: Afghanistan, 27 January 2022
https://www.bpb.de/themen/kriege-konflikte/innerstaatliche-konflikte/155323/afghanistan/#node-content-title-3
[16] Encylopaedia Britannica, Afghanistan - History, Afghanistan since 1973, last updated 2 November 2021
https://www.britannica.com/place/Afghanistan/Civil-war-mujahideen-Taliban-phase-1992-2001
[17] Encylopaedia Britannica: Afghanistan - History, Afghanistan since 1973, last updated 2 November 2021
https://www.britannica.com/place/Afghanistan/Civil-war-mujahideen-Taliban-phase-1992-2001
[18] Encylopaedia Britannica: Afghanistan - History, Struggle for democracy, last updated 2 November 2021
https://www.britannica.com/place/Afghanistan/Struggle-for-democracy
[19] SWP - Stiftung Wissenschaft und Politik: Central Asia's Muslims and the Taliban, 23 February 2022
https://www.swp-berlin.org/publications/products/aktuell/2022A15_Zentralasien_MuslimeTaliban.pdf
[20] Associated Press: Taliban form all-male Afghan government of old guard members, 8 September 2021
https://apnews.com/article/middle-east-pakistan-afghanistan-arrests-islamabad-d50b1b490d27d32eb20cc11b77c12c87
[21] It is not possible to provide reliable data on the share of ethnic groups in the total population for Afghanistan, as the last partial census was conducted in 1979. (Encyclopedia Britannica, Afghanistan, People, last updated 21 November 2021
https://www.britannica.com/place/Afghanistan/Plant-and-animal-life#ref21423)
[22] Encyclopedia Britannica: Afghanistan, People, last updated 21 November 2021
https://www.britannica.com/place/Afghanistan/Plant-and-animal-life#ref21423
[23] DFAT - Australian Government - Department of Foreign Affairs and Trade: DFAT Thematic Report on Political and Security Developments in Afghanistan (August 2021 to January 2022), 14 January 2022, p. 1
https://www.ecoi.net/en/file/local/2067344/country-information-report-afghanistan.pdf
[24] Political Handbook of the World, 2018-2019, SAGE Publications (edited by Tom Lansford), 2019 (Kindle edition), p. 3;
Minority Rights International: Afghanistan - minorities and indigenous peoples, last updated December 2021
https://minorityrights.org/country/afghanistan/
[25] Encyclopaedia Britannica: Afghanistan - People, Religion, last updated 21 November 2021
https://www.britannica.com/place/Afghanistan/Languages#ref21425
[26] Freedom House: Freedom in the World 2021 - Afghanistan, 4 March 2021
https://www.ecoi.net/en/document/2068626.html
[27] Encyclopaedia Britannica: Afghanistan - People, Religion, last updated 21 November 2021
https://www.britannica.com/place/Afghanistan/Languages#ref21425
[28] Minority Rights International: Afghanistan - minorities and indigenous peoples, last updated December 2021
https://minorityrights.org/country/afghanistan/
[29] Freedom House: Freedom in the World 2022 - Afghanistan, 28 February 2022, Section B4
https://www.ecoi.net/en/document/2068625.html
[30] AAN - Afghanistan Analysts Network: Afghanistan's conflict in 2021 (2): Republic collapse and Taleban victory in the long-view of history, 12 January 2022
https://www.ecoi.net/de/dokument/2066639.html
[31] Minority Rights Group International: Afghanistan, Pashtuns, no date
https://minorityrights.org/minorities/pashtuns/
[32] AAN - Afghanistan Analysts Network, Rzehak, Lutz (author): Doing Pashto, Pashtunwali as the ideal of honourable behaviour and tribal life among the Pashtuns, March 2011, pp. 3-5
http://afghanistan-analysts.net/uploads/20110321LR-Pashtunwali-FINAL.pdf
[33] Minority Rights Group International: Afghanistan, Pashtuns, no date
https://minorityrights.org/minorities/pashtuns/
[34] AAN - Afghanistan Analysts Network, Rzehak, Lutz (author): Doing Pashto, Pashtunwali as the ideal of honourable behaviour and tribal life among the Pashtuns, March 2011, pp. 3-5
http://afghanistan-analysts.net/uploads/20110321LR-Pashtunwali-FINAL.pdf
[35] Minority Rights Group International: Afghanistan, Pashtuns, no date.
https://minorityrights.org/minorities/pashtuns/;
AAN - Afghanistan Analysts Network, Rzehak, Lutz (author): Doing Pashto, Pashtunwali as the ideal of honourable behaviour and tribal life among the Pashtuns, March 2011, p. 13
http://afghanistan-analysts.net/uploads/20110321LR-Pashtunwali-FINAL.pdf
[36] USIP - United States Institute of Peace: The Clash of Two Goods, State and Non-State Dispute Resolution in Afghanistan, November 2006, p. 8
https://www.usip.org/sites/default/files/file/clash_two_goods.pdf
[37] Shoro, Shahnaz: Honour Killing in the Second Decade of the 21st Century, 2017, p. 43
[38] Minority Rights Group International: Afghanistan, Pashtuns, no date
https://minorityrights.org/minorities/pashtuns/
[39] Minority Rights Group International: Afghanistan, Minorities and indigenous peoples, last updated December 2021
https://minorityrights.org/country/afghanistan/
[40] Minority Rights Group International: Afghanistan, Tajiks, no date
https://minorityrights.org/minorities/tajiks/
[41] Minority Rights International: Afghanistan, Minorities and indigenous peoples, last updated December 2021
https://minorityrights.org/country/afghanistan/
[42] Minority Rights Group International: Afghanistan, Tajiks, no date
https://minorityrights.org/minorities/tajiks/
[43] Encyclopaedia Britannica, Afghanistan - People, last updated 21 November 2021
https://www.britannica.com/place/Afghanistan
[44] Minority Rights Group International: Afghanistan, Tajiks, no date
https://minorityrights.org/minorities/tajiks/
[45] Encyclopaedia Britannica: Hazara, last updated 24 September 2021
https://www.britannica.com/topic/Hazara
[46] Minority Rights Group International: Afghanistan, Hazara, no date
https://minorityrights.org/minorities/hazaras/
[47] Encyclopaedia Britannica: Hazara, last updated 24 September 2021
https://www.britannica.com/topic/Hazara
[48] Encyclopaedia Britannica: Hazara, last updated 24 September 2021
https://www.britannica.com/topic/Hazara
[49] Minority Rights Group International: Afghanistan, Hazara, no date
https://minorityrights.org/minorities/hazaras/
[50] Encyclopaedia Britannica: Hazara, last updated 24 September 2021
https://www.britannica.com/topic/Hazara
[51] Minority Rights Group International: Afghanistan, Uzbeks and Turkmens, no date
https://minorityrights.org/minorities/uzbeks-and-turkmens/
[52] The Women, Peace and Security Index is compiled annually by Georgetown University's Institute for Women, Peace and Security. This index rates countries on indicators designed to measure women's equality and autonomy, such as educational attainment, financial independence, political representation, legal discrimination or intimate partner violence. (GIWPS - Georgetown Institute for Women, Peace and Security: Women Peace and Security Index 2021/22, p. 15
https://giwps.georgetown.edu/wp-content/uploads/2021/11/WPS-Index-2021.pdf)
[53] GIWPS - Georgetown Institute for Women, Peace and Security: Women Peace and Security Index 2021/22, p. 1
https://giwps.georgetown.edu/wp-content/uploads/2021/11/WPS-Index-2021.pdf
[54] GIWPS - Georgetown Institute for Women, Peace and Security: Women Peace and Security Index 2021/22, p. ii
https://giwps.georgetown.edu/wp-content/uploads/2021/11/WPS-Index-2021.pdf
[55] GIWPS - Georgetown Institute for Women, Peace and Security: Women Peace and Security Index 2021/22, p. 11
https://giwps.georgetown.edu/wp-content/uploads/2021/11/WPS-Index-2021.pdf
[56] DFAT - Australian Government - Department of Foreign Affairs and Trade: DFAT Thematic Report on Political and Security Developments in Afghanistan (August 2021 to January 2022), 14 January 2022, p. 4, p. 14
https://www.ecoi.net/en/file/local/2067344/country-information-report-afghanistan.pdf
[57] DFAT - Australian Government - Department of Foreign Affairs and Trade: DFAT Thematic Report on Political and Security Developments in Afghanistan (August 2021 to January 2022), 14 January 2022, p. 14
https://www.ecoi.net/en/file/local/2067344/country-information-report-afghanistan.pdf
[58] GIWPS - Georgetown Institute for Women, Peace and Security: Women Peace and Security Index 2021/22, p. 62
https://giwps.georgetown.edu/wp-content/uploads/2021/11/WPS-Index-2021.pdf
[59] DFAT - Australian Government - Department of Foreign Affairs and Trade: DFAT Thematic Report on Political and Security Developments in Afghanistan (August 2021 to January 2022), 14 January 2022, p. 15
https://www.ecoi.net/en/file/local/2067344/country-information-report-afghanistan.pdf
[60] DFAT - Australian Government - Department of Foreign Affairs and Trade: DFAT Thematic Report on Political and Security Developments in Afghanistan (August 2021 to January 2022), 14 January 2022, p. 15
https://www.ecoi.net/en/file/local/2067344/country-information-report-afghanistan.pdf
[61] The New York Times: Taliban Seize Women's Ministry Building for Use by Religious Police, 17 September 2021
https://www.nytimes.com/2021/09/17/world/asia/taliban-women-ministry-religious-police.html
[62] DFAT - Australian Government - Department of Foreign Affairs and Trade: DFAT Thematic Report on Political and Security Developments in Afghanistan (August 2021 to January 2022), 14 January 2022, p. 15
https://www.ecoi.net/en/file/local/2067344/country-information-report-afghanistan.pdf
[63] DFAT - Australian Government - Department of Foreign Affairs and Trade: DFAT Thematic Report on Political and Security Developments in Afghanistan (August 2021 to January 2022), 14 January 2022, p. 15
https://www.ecoi.net/en/file/local/2067344/country-information-report-afghanistan.pdf
[64] Freedom House: Freedom in the World 2022 - Afghanistan, 28 February 2022, Section G3
https://www.ecoi.net/de/dokument/2068625.html
[65] OHCHR - UN Office of the High Commissioner for Human Rights: Afghanistan: Taliban attempting to steadily erase women and girls from public life - UN experts, 17 January 2022
https://www.ecoi.net/de/dokument/2066758.html
[66] UN OCHA - UN Office for the Coordination of Humanitarian Affairs: Afghanistan Humanitarian Needs Overview 2022, 7 January 2022, p. 13
https://www.ecoi.net/en/file/local/2066646/afghanistan-humanitarian-needs-overview-2022.pdf
[67] The Washington Post: As Afghanistan's economy collapses, international community looks for innovative ways to avoid humanitarian disaster, 28 November 2021
https://www.washingtonpost.com/national-security/afghanistan-humanitarian-disaster-aid/2021/11/27/5d2f859a-4ee4-11ec-a1b9-9f12bd39487a_story.html
[68] DFAT - Australian Government - Department of Foreign Affairs and Trade: DFAT Thematic Report on Political and Security Developments in Afghanistan (August 2021 to January 2022), 14 January 2022, p. 8
https://www.ecoi.net/en/file/local/2067344/country-information-report-afghanistan.pdf
[69] IRC - International Rescue Committee: IRC 2022 Emergency Watchlist, 14 December 2021, p. 24
https://www.rescue.org/sites/default/files/document/6423/cs2201watchlistreportfinal.pdf
[70] TNH - The New Humanitarian: Afghanistan's crises, by the numbers, 15 February 2022
https://www.thenewhumanitarian.org/news/2022/2/15/Afghanistan-crises-hunger-inflation-migration-by-the-numbers
[71] WFP - World Food Programme: Food Security Update, Round Five (January 2022), p. 1
https://docs.wfp.org/api/documents/WFP-0000136715/download/
[72] TNH - The New Humanitarian: Afghanistan's crises, by the numbers, 15 February 2022
https://www.thenewhumanitarian.org/news/2022/2/15/Afghanistan-crises-hunger-inflation-migration-by-the-numbers
[73] IRC - International Rescue Committee: IRC 2022 Emergency Watchlist, 14 December 2021, p. 25
https://www.rescue.org/sites/default/files/document/6423/cs2201watchlistreportfinal.pdf
[74] UN General Assembly: The situation in Afghanistan and its implications for international peace and security; Report of the Secretary-General [A/76/667-S/2022/64], 28 January 2022, p. 8
https://www.ecoi.net/en/file/local/2067517/A_76_667--S_2022_64-EN.pdf
[75] IRC - International Rescue Committee: IRC 2022 Emergency Watchlist, 14 December 2021, p. 25
https://www.rescue.org/sites/default/files/document/6423/cs2201watchlistreportfinal.pdf
[76] UN General Assembly: The situation in Afghanistan and its implications for international peace and security; Report of the Secretary-General [A/76/667-S/2022/64], 28 January 2022, p. 1
https://www.ecoi.net/en/file/local/2067517/A_76_667--S_2022_64-EN.pdf
[77] IRC - International Rescue Committee: IRC 2022 Emergency Watchlist, 14 December 2021, p. 25
https://www.rescue.org/sites/default/files/document/6423/cs2201watchlistreportfinal.pdf
[78] IPC - Integrated Food Security Phase Classification: Afghanistan, IPC Acute Insecurity Analysis (September 2021 - March 2022), October 2021, p. 9
https://www.ipcinfo.org/fileadmin/user_upload/ipcinfo/docs/IPC_Afghanistan_AcuteFoodInsec_2021Oct2022Mar_report.pdf
[79] UNHCR - UN High Commissioner for Refugees: UNHCR Regional Bureau for Asia and Pacific (RBAP); Flash External Update: Afghanistan Situation #14; As of 15 February 2022 (two-week coverage period), 15 February 2022, p. 1
https://www.ecoi.net/en/file/local/2068447/AFG+emergency+update-15+february2022.pdf
[80] IOM - International Organization for Migration: IOM Afghanistan Situation Report, 7-13 October 2021, p. 1
https://www.iom.int/sites/g/files/tmzbdl486/files/situation_reports/file/SitRep_IOM_Afghan_0710-1310-2021_0.pdf
[81] IPC - Integrated Food Security Phase Classification: Afghanistan, IPC Acute Insecurity Analysis (September 2021 - March 2022), October 2021, p. 9
https://www.ipcinfo.org/fileadmin/user_upload/ipcinfo/docs/IPC_Afghanistan_AcuteFoodInsec_2021Oct2022Mar_report.pdf
[82] UNHCR - UN High Commissioner for Refugees: UNHCR Regional Bureau for Asia and Pacific (RBAP); Flash External Update: Afghanistan Situation #14; As of 15 February 2022 (two-week coverage period), 15 February 2022, p. 1
https://www.ecoi.net/en/file/local/2068447/AFG+emergency+update-15+february2022.pdf
[83] IPC - Integrated Food Security Phase Classification: Afghanistan, IPC Acute Insecurity Analysis (September 2021 - March 2022), October 2021
https://www.ipcinfo.org/fileadmin/user_upload/ipcinfo/docs/IPC_Afghanistan_AcuteFoodInsec_2021Oct2022Mar_report.pdf
[84] UN OCHA - UN Office for the Coordination of Humanitarian Affairs: Afghanistan Humanitarian Needs Overview 2022, 7 January 2022, p. 14
https://www.ecoi.net/en/file/local/2066646/afghanistan-humanitarian-needs-overview-2022.pdf
[85] UN Women - UN Entity for Gender Equality and the Empowerment of Women (replaces UNIFEM, DAW, INSTRAW, OSAGI) (author), UNHCR - UN High Commissioner for Refugees (author): Afghanistan Crisis Update; Women and Girls in Displacement, 1 March 2022, p. 3
https://www.ecoi.net/en/file/local/2068691/Afghanistan_factsheet.pdf
[86] UN Women - UN Entity for Gender Equality and the Empowerment of Women (replaces UNIFEM, DAW, INSTRAW, OSAGI) (author), UNHCR - UN High Commissioner for Refugees (author): Afghanistan Crisis Update; Women and Girls in Displacement, 1 March 2022, p.2
https://www.ecoi.net/en/file/local/2068691/Afghanistan_factsheet.pdf
[87] UNHCR - UN High Commissioner for Refugees: UNHCR Regional Bureau for Asia and Pacific (RBAP); Flash External Update: Afghanistan Situation #8; 01-15 October 2021, 20 October 2021
https://www.ecoi.net/en/file/local/2062595/2021.10.15+EXTERNAL+AFG+Situation+Emergency+Update.pdf
[88] TNH - The New Humanitarian: Afghanistan's crises, by the numbers, 15 February 2022
https://www.thenewhumanitarian.org/news/2022/2/15/Afghanistan-crises-hunger-inflation-migration-by-the-numbers
[89] IOM - International Organization for Migration: The Race Against Time to Prevent a Humanitarian Disaster in Afghanistan, 4 November 2021
https://www.iom.int/news/race-against-time-prevent-humanitarian-disaster-afghanistan